Dialogic High Density Gateways (IMG Series)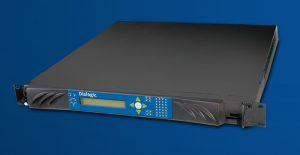 The Dialogic IMG 1010 Integrated Media Gateway is a carrier-grade VoIP gateway that supports both media and signaling in a single chassis. It allows service providers to add new telephony services quickly, and gives them a clear migration path to an all-IP network.
Key Features
• SS7 signaling, call routing, call translation, and IP transcoding supported in a single chassis
• Supports multimedia border element capabilities, including SIP mediation, topology hiding, and media transcoding
• Supports up to 1024 channels in a 1U chassis
• NEBS 3 carrier-grade design uses independent network interfaces to separate transport, signaling, and OAM&P
• Works with load balancers
• Optimizes distribution of SIP traffic and improves scalability and fault tolerance
• Provides a flexible, cost-effective platform that can evolve from TDM-IP to all IP
• Can reduce complexity and administrative overhead for VoIP services, and allows on-the-fly voice coder conversion
• Facilitates efficient operations between incompatible network elements in a service provider infrastructure
• Wireline and wireless support, including ENUM
• Enables fast connection time and lower phone charges because callers can connect to each other directly without using the PSTN
• Provides high reliability and service availability
• Allows easy scalability from 96 to 1024 channels in a small footprint
• Simultaneous support for PRI and SS7 signaling and SIP and H.323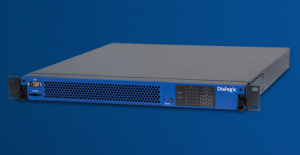 The Dialogic ® IMG 2020 Integrated Media Gateway enables interworking between IP and PSTN networks via high-density optical, telephony, and Ethernet connections in a compact 1U form factor. It transforms media and signaling to support efficient and reliable voice, fax, modem and tone-based sessions for mobile and cloud-based applications. The IMG 2020 secures sessions across IP and mixed network boundaries in support of service level agreements.
Key Features
• Scalable from 50 to 2250 simultaneous SIP sessions with multimedia transcoding, and 128 to 2016 channels of SS7 signaling
• Combined IP and TDM gateway features on a single platform
• Carrier class design and features provide high availability, reliable throughput and enhanced service delivery
• Eliminates the need to add separate hardware to support both security and transcoding requirements, helping to reduce CAPEX and number of platforms deployed
• Any-to-any signaling and media support
• Support for SS7, SIP signaling, and IPv6 and IPv4 interworking along with voice transcoding provides a cost-effective platform to help service providers evolve from a TDM to an all-IP environment
• Scalable IP and TDM connectivity solution provides high performance in a small footprint to help lower OPEX and CAPEX
• SIP profiler, web based user interface and offline configuration
• Integrated encryption and transcoding support for voice, tones and faxing
• Integrated multimedia gateway features facilitate TDM and IP interworking to provide service delivery flexibility and automated failover between domains
• Carrier class solution
• Easy-to-use service configuration and management tools can help accelerate service deployment and simplify platform management